A couple of weeks ago a handsome gentleman about my age stopped by the studio while I was teaching a class and asked me if I would paint two pictures for him. I was taken by surprise when he showed me the support for the paintings…. a pizza box. At the time I felt confused. I don't usually take commissions and my ego was taken back a little with the thought of painting on a pizza box. Most of you know I have a difficult time concentrating when I have more than two things going on at once. I was busy with a class and here he was standing in the studio doorway telling me his great idea. The whole encounter lasted less than 5 minutes. I was so surprised and dumfounded that I said ok. After class I thought, what was I thinking! The Tannery Camp started in 3 days and I was getting ready for that, along with helping Chuck with the new grill area. Two things, that's my limit. HA! HA! As many of you know I am a little ADD.
Bob Allison plays the piano and sings at different venues and one of them is with older folks. He has a good sense of humor and he wanted to both add a prop and make it easier for them to sing along. So, he creatively thought of a painting of an eye on one side of the inside of the box and a painting of a moon on the other side. Can you guess the song? It is That's Amore... when the moon hits your eye like a big pizza pie, etc.! Isn't that a great idea? I had fun doing it, kind of like when I was a kid, just enjoying myself.
Bob is celebrating life: singing, playing the piano and generally having a good time where ever he goes. I met him a year ago in the Nutcracker Bakery while buying a cup of coffee. At the time I could see he was enthusiastic and full of life. Below is a photo and a description from his bio. – just in case you need an entertainer for your next function!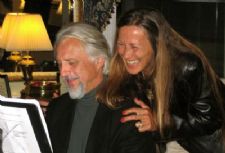 Bob Allison

With repertoire ranging from Scott Joplin to Jimmy Buffett, Bob Allison is one of the region's leading singing piano players. Bob's style combines the sophisticated swing of Rodgers and Hart, Duke Ellington, and Cole Porter with the rock-ability to cover Elvis Presley and Jerry Lee Lewis. Since 1999 Bob has been House Musician at the Emerson Inn in Rockport, MA where he can be heard weekends throughout the year. He also leads the Lighthouse Trio, a group which highlights the great songs of the 30s, 40s, and 50s. His friendly and casual style makes him a great fit for functions like birthdays, wedding receptions, reunions and anniversaries. CD on Website.
As always, thanks for taking your time reading my blog and encouraging me to keep it up.